Skip to Content
Difference Between a Moped & Scooter
Moped & Scooter Insurance in Glendale, AZ
Protect Your Moped & Scooter Today
There are so many fun things to drive these days, from trendy mopeds to fast little scooters. How can you choose? Our trusted insurance team will help you understand the differences between a moped and a scooter and what type of insurance coverage ensures you're protected in an accident. Ideal Insurance Agency offers scooter and moped insurance to customers in Glendale, AZ. Whether you drive a car, a motorcycle, a moped, or an RV, we have the perfect motor insurance coverage for you. Contact us today to get a free quote.
Please take out the sentence under Injury Liability that reads as follows: "You should have at least $15,000 of bodily injury liability coverage per person an $30,000 per accident." Please replace it with what you should with your agent to help you determine the proper limits of liability to carry. The liability limit should be at a minimum, the same as your personal auto policy limits.
What Is the Difference Between a Moped & Scooter?
The main difference between a moped and a scooter is the engine size. A moped can go above 40 mph with engines ranging from 50cc to 250cc. A scooter has a powerful motor that allows it to top out at 60 mph with a 250cc motor. Mopeds are too slow to allow on most busy roadways, while scooters are more versatile.
Do You Need Insurance for a Moped in Arizona?
Yes, you do need insurance to operate a moped in Arizona. A moped is considered a type of motorcycle, even though you don't need a special license to ride one. You do need moped insurance, to register your moped, and to insure your moped. If your scooter's engine is under five horsepower, it's a motor-driven cycle. You must register your scooter and have liability insurance to drive it lawfully.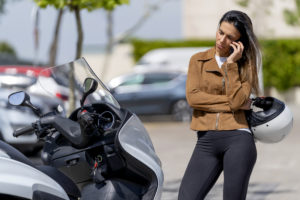 What Does Moped Insurance Cover?
We want you to feel as protected as possible on your moped or scooter. Your insurance rates are determined by your coverage, qualifying discounts, and riding history. Scooter and moped insurance should cover the following:
Injury Liability – Bodily injury liability offers financial protection if another person is injured in an accident you cause. Your agent will help you determine the proper limits of liability to carry. The liability limit should be at a minimum the same as your personal auto policy limits.
Property Damage Liability – Property damage liability provides protection if a collision causes damages to another person's vehicle or property. You should have $10,000 of property damage liability coverage per accident.
Collision Protection – Collision protection helps cover the cost of repairs to your vehicle, no matter who caused the accident.
Comprehensive Coverage – Comprehensive coverage provides protection if your moped or scooter is stolen or vandalized.
Why Choose Ideal Insurance Agency?
Ideal Insurance Agency has won multiple awards for our commitment to our customers. We strive to offer affordable rates backed by exemplary customer service. We're committed to providing the highest quality access to multiple companies. We are a family-owned business that has served Arizona since 1983. We are here for your every need when it comes to insurance coverage. Let us help protect you!
Contact Ideal Insurance Agency
Our auto insurance specialists will help customize a motor insurance plan that fits your needs. We want to protect you in the event of an accident or theft of your vehicle. We understand mopeds and scooters are fun toys, but they must be insured for your protection. Contact our office today to receive a quote!