Skip to Content
What Factors Affect the Prices of Our Car Insurance?
What Factors Affect Car Insurance Prices?
Understanding Car Insurance Prices in Glendale, AZ
Your auto insurance costs often vary from driver to driver. While Arizona's average car insurance cost is a little over $1100 annually, many factors affect the final car insurance rate. Our team at Ideal Insurance Agency offers car insurance in Glendale, AZ, and helps you understand your rates. We'll break down the factors that affect the prices of our car insurance rates. We are dedicated to offering you the best customer service and high-quality access to insurance policies. Contact us to learn more today!
Why Do You Need Auto Insurance?
An accident without car insurance can cause stress and wipe out your pocketbook. Purchasing auto insurance protects your rights, helps keep your finances intact, and enables you to avoid serious legal issues associated with injuries. Auto insurance policies assist with out-of-pocket expenses, including vehicle damage, property damage, injuries, and medical expenses. All auto insurance policies are customized to include the coverage you need to ensure you aren't paying for non-essential additions.
Major Factors That Affect Car Insurance
Car insurance companies follow guidelines to set how much you'll pay for their car insurance. The most common factors that may affect your car insurance payments include the following:
Driving Record – If you have an excellent driving record, you'll have a lower premium. An at-fault accident can increase your rates by up to 50%. Speeding tickets, accidents, and DUIs or DWIs often increase your insurance rates.
Vehicle Age – The model, make, and age of your vehicle will affect your car insurance rates. Luxury vehicles often result in higher repair costs and higher premiums. Safe vehicles at a young age typically are the least expensive to insure.
Policy Choices – You get the best protection with the highest coverage and limits. If you choose full coverage car insurance, your deductible amount is included in your costs.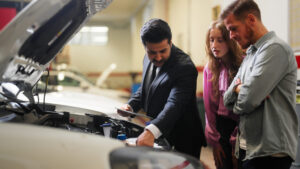 Auto Coverage in Arizona
Though your car insurance coverage costs depend on multiple factors, the one thing that stays the same is auto insurance is critical for your financial protection. Some of the most important things to remember about auto coverage include the following:
Liability Coverage – It's essential to have liability limits covering all possible crashes. Whether you cause injuries or a person takes you to court, liability insurance will help protect you.
Collision Coverage – Collision coverage is worth every penny. When you need vehicle repairs, collision repair coverage pays for itself instead of making you pay a sudden out-of-pocket expense.
Comprehensive Coverage – Adding comprehensive coverage protects you from vandalism, theft, weather elements, and even windshield cracks.
Uninsured & Underinsured Motorist Coverage – You can protect yourself from drivers that do not carry insurance with uninsured and underinsured motorist coverage.
Can You Get Temporary Car Insurance in Arizona?
Temporary and short-term auto insurance does not genuinely exist. You can get rental car insurance if you don't own a car. The only way to get temporary car insurance is to buy full coverage car insurance and cancel it early. Most companies will make you pay a cancellation fee.
Why Choose Ideal Insurance Agency?
Arizona is an at-fault state, so the driver at fault pays for the damages. It's important that you have an insurance policy on your side that protects you. Arizona is a contributory state. You do not have to be 100% at fault to have a liability claim against you. Ideal Insurance Agency will help determine the best auto coverage plan to fit your needs. We'll help you understand the factors that may increase your costs and help you make a plan to lower these costs in the future. Ideal Insurance Agency has served Arizona since 1983 with exemplary customer service. Let us help you.
Contact Ideal Insurance Agency
Ideal Insurance Agency is here to help you with auto insurance plans! We understand car insurance policies can be confusing, so we are always here to answer your questions. Contact our office today to receive a quote on auto insurance!